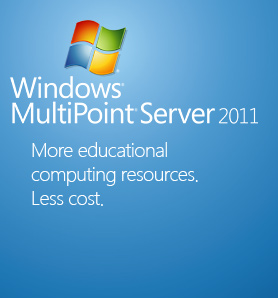 Windows MultiPoint Server 2011
We've been very hectic over the past couple of months on various projects, one of which was a deployment of Microsoft Windows MultiPoint Server 2011 for Helvetia House School.
Windows MultiPoint Server is aimed directly at the classroom, with the combination of simplicity, great features and low cost you can see why it's perfect.
We used a HP Pro 6200 and gave it some extra memory and then attached seven HP t200 Zero Client (these are so thin they're called zero) via USB, the t200s attached to the back of the monitors so everything was nice and tidy.
We chose an Academic license with Software Assurance for MultiPoint Server 2011 Premium as well as Office 2010 Professional, to ensure that we can keep the software current when the new versions come out.
Installation was a doddle and before we new it we had seven screens pop in to life with no startup or shutdown delays it's a breath of fresh air for those used to aging PCs.
The teacher can view thumbnails of each workstations as well as project their screen, or a students, on to other screens.  All the students have their own settings and can disconnect quickly to allow another student on as well as roam around to the other computers with ease.
The teachers and students are loving their new systems, which makes us happy.