Help keep your business safe with our comprehensive password management service
Secure passwords are essential for keeping sensitive data and key IT systems safe fromhackers and other threats.
If you're re-using the same passwords across multiple accounts, or you don't know who has access to which systems, your whole business could be at risk.
Help eliminate that risk with our easy-to-use password management service.
One Portal For All Your Password Needs
Save time with instant credential insertion—no more remembering lists of passwords.
Centrally control employee access to systems, so only those who should be on critical systems have access to them.
Easily terminate access to all systems following an employee's departure
Track and record all system access to help meet compliance audit requirements.
Here's How It Works
Users:
Log into websites with a single click
Set up folders to organize passwords
Generate strong, unique passwords
View company-level passwords
View passwords unique to their operating group or business unit
Add and edit passwords for personal accounts—inaccessible to all other users, admins, and even our team
Administrators:
View audits and reports on password related activity
Terminate system access for employees who leave the company
Share approved passwords with our team automatically
Set up passwords to auto-expire and autogenerate strong, new passwords
Implement two-factor authentication (2FA) policies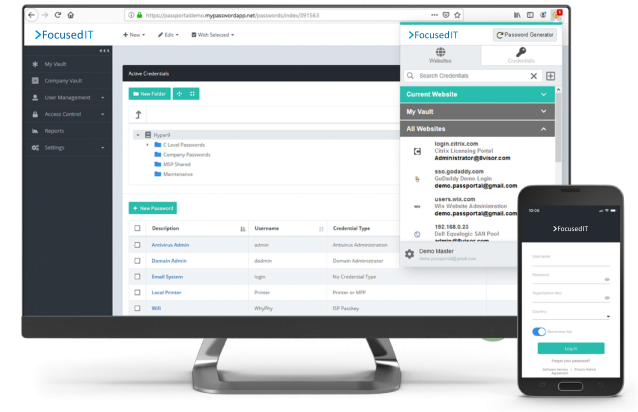 Take control of your passwords and system access — and get peace of mind.