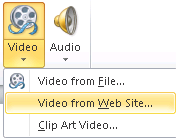 PowerPoint 2010 ribbon menu item is broken by Microsoft Update KB2553145
A Microsoft update released on September 10, 2013 has been the cause of a problem for PowerPoint users who make use of the ability to insert YouTube videos into their PowerPoint presentations. The "Insert" tab on the ribbon normally has the following options to insert Video clips:
The Update for Microsoft PowerPoint 2010 (KB2553145) 32-Bit Edition has been shown to cause the option to insert "Video from Web site…" to disappear as shown below:
The fix is simple enough – just uninstall the KB2553145 update. However, this will not always return the required option to the ribbon menu so you will need to follow up this action by running a repair of Office 2010.
Finally, to prevent the update from reinstalling itself, make sure that you hide the KB2553145 update from Windows Update.